All products are available for individual sale at Columbia Podiatry. To place an order, call (573) 443-2015 or stop by. All product orders must be picked up in store.
Columbia Podiatry Dry Skin Relief Cream
Columbia Podiatry Advanced Foot Cream
Columbia Podiatry Intense Softening Urea Stick
Gilden Tree Foot Scrubber
Antoine de Paris Podorape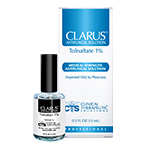 Clarus Antifungal Solution
Clarus Antifungal Solution, Tolnaftate 1% is a safe, effective, oil-soluble formulation indicated for the treatment of athlete's foot and ringworm. This topical, convenient Urea-based penetrating cream is dispensed exclusively through physicians and relieves minor itching, scaling and fissuring, mild skin irritations, burning and soreness.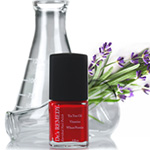 Dr.'s Remedy Nail Polish
This long lasting podiatrist formulated advanced nail enamel does not contain common additives such as Formaldehyde, Formaldehyde Resin, Toluene, Phthalates, or Parabens, and is vegan-friendly. Enriched with Garlic Bulb Extract, Tea Tree Oil, Wheat Protein, and Vitamins C and E.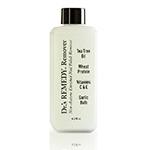 Dr.'s Remedy Nail Polish Remover
A non-acetone enriched nail polish remover infused with vitamins, potein, and naturally occuring anti-fungal ingredients. Why not do something good for your nails, even when just taking the polish off? Contains Garlic Bulb Extract, Tea Tree Oil, Wheat Protein, and Vitamins C and E. 4.2 fl. oz.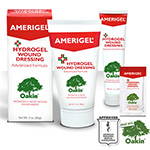 AmeriGel Hydrogel Wound Dressing
Provide moist wound healing and reduce scarring with AmeriGel Hydrogel Wound Dressing. The hydrating base in the wound dressing provides necessary moisture to assist the body in creating an optimum wound healing environment. Zinc works together with the hydrating base to prevent scabs from forming. Rated the #1 topical wound/ulcer treatment by podiatric physicians since 2006.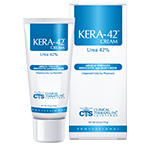 KERA-42 Cream
KERA-42 Cream is a safe, effective, medical strength, keratolytic and moisturizing urea-based formulation essential for calloused, rough, dry skin. KERA-42 Cream exfoliates dead skin cells while restoring moisture to the new cell layer, providing an optimal environment for healthy skin. Also contains tea tree oil, aloe vera, and antioxidants that provide additional hydration to damaged, rough, and dry skin.
Columbia Podiatry Advanced Foot Cream
Rich, aloe-based foot cream with shea butter. Excellent for dry skin and cracked heels. Made with Certified Organic Aloe Vera base, instead of water, so it's thick, rich and very creamy, but soaks in quickly. Gluten Free and safe for .
Columbia Podiatry Foot Scrubber
A callus remover par excellence. This terra cotta pumice stone is perfect for dry, cracked heels and calluses. Called "The Best" by "O" the Oprah Magazine, this two-sided Foot Scrubber works to cleanse, exfoliate and smooth skin. Used regularly, it helps remove calluses, and reduces dry, cracked heels. Made of terra-cotta, so it will never wear away or disintegrate like normal pumice stones do.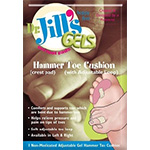 Hammer Toe Crest Pads
Dr. Jill's Toe Crest Pads make walking easier and more comfortable as they lift and straighten toes to reduce pressure at tips and tops of toes. This pad can also help straighten overlapping toes. The adjustable fabric loop fits on any size toe and is for use in all styles of footwear.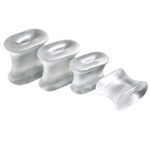 Gel Toe Spacers
Help separate and align toes that rub together when walking, reduce friction and ease pressure with Gel Toe Spacers. The gel composite helps the spacers stay in place for optimum comfort.
SteriShoe Sanitizer
Steri-Shoe Sanitizer is clinically proven to kill up to 99.9% of the germs in your daily sneakers with the power of ultraviolet (UV) light. UV light is so effective it's used to sterilize hospital operating rooms. Stop putting your feet in fungus-filled shoes. Start disinfecting and deodorizing your shoes with SteriShoe. We also offer SteriShoe sanitizing as a service. Drop off any pair of shoes and have them sanitized in our office.